Track and field athletics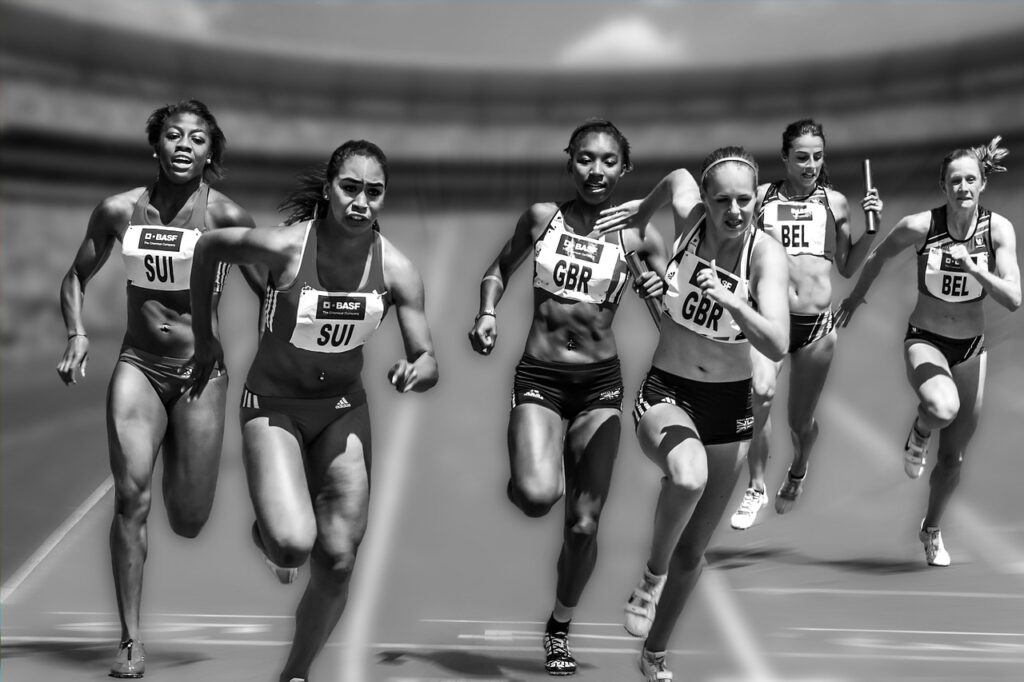 In 2018 European Athletic Championships in Berlin, the women's 4 by 100m relay was won by a young team from Great Britain and Northern Ireland  with a time of  41.88 seconds to beat Netherlands who clocked 42.15 seconds . Germany came in third with a time of 42.23 seconds.
Some items needed to excel in track and field are given here in this link. Click here.
Track & Field Coaching & Skill Development Sprints:
Categories of Athletics
This comprises several kinds of sporting events namely , track and field events.
The track events include running sprinting races to distances such as 100m (one hundred meters). Others are the 200m, 400m as well as relays such as 4 x 100m and 4 x 400m. There is also Hurdles in which the athlete jumps over a cross bar in every 25 meters for a 110m distance event . Hurdle can also involve a jump over a bar for every 100m for a 400m event. However, in a Steeplechase event the athlete jumps over a hurdle bar every 400meters including landing in a puddle of water for a 3000m or 2000m distance event.
Field events include long jump, triple jump, high jump and many others events such as shot put, discuss throw , hammer throw , javelin and poll vault.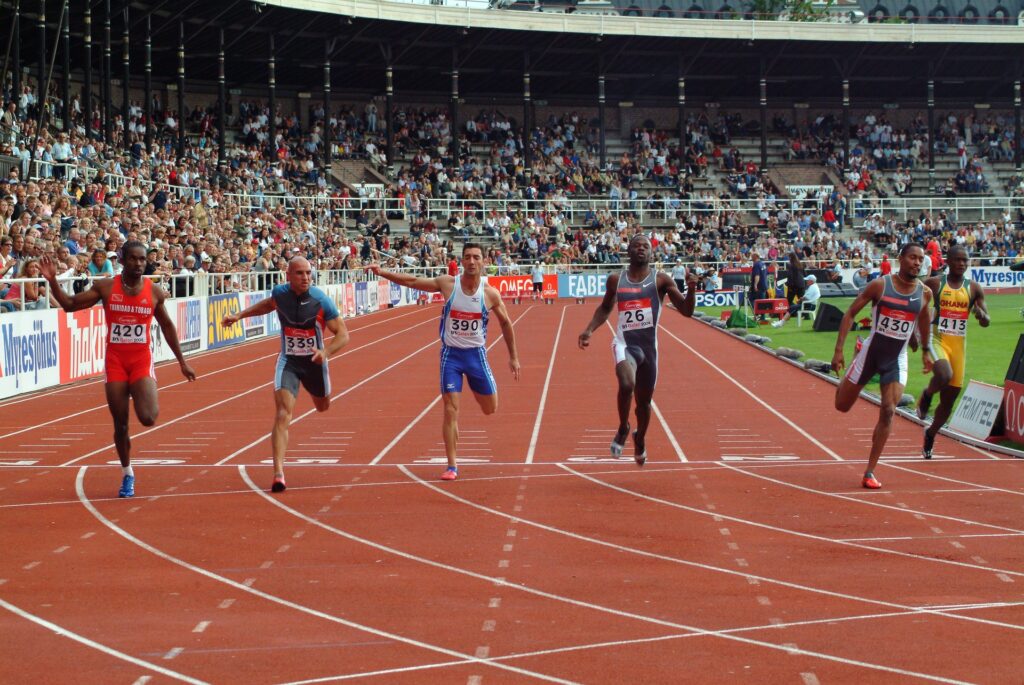 Saucony Men's Spitfire:
Some items needed to excel in track and field are given here in this link. Click here.
Athletics over the years
History of athletics dates back a long time ago but records show that competitions were held by the ancients Greeks about 700 B.C. This is called the Olympic games . Therefore, this is over 2700 years ago. However, as societies grow and things change over time , athletic events for the Olympic games also evolved over the years. For example, people from all around the world participate ,and is not only for men and no religion attached to it.
World athletic events
Currently, every school in the world participate in some form of athletics either for recreational exercise or for competitions. There are also competitions at the state level from which people are selected to represent their countries in major world athletic events. Several world athletic events are held every year. However , the most notable is the Olympic games that is held every four years alternating for winter games and summer games.
The summer games are most prominent since most countries participate in it compared to the winter games which usually done in snow . Winners of each event are given gold medals , while runners up get silver and bronze medals respectively. The last summer event was held in the summer in 2016 at Rio de Janeiro in Brazil. However the next one is scheduled to be held this in the summer 2021 in Tokyo, Japan.
Benefits of athletics
Athletes train a lot in the gym as well as outdoors to gain the physical transformation to prepare for their events.
For example marathon runners , practice lots of long distance endurance running as well as working out in the gym .
This has extra benefit to the health of the athlete because excess unwanted calories are burnt and removed as more oxygen is inhaled .
This improves energy and strength and overall health of the athlete .
Athletics also helps to built more social connections and ease stress.
Besides working out in the gym , athletes might be involved in other exercise such as yoga and Pilates to help improve performance .
Other world athletic events
Examples of other events that are held for athletes besides the Olympic games is the World Athletics Championships which is also known as the International Association of Athletic Federations ( IAAF) championships. There are also other world athletic marathon events held every year such as the Chicago marathon, New York marathon . Sometimes there are also charity athletic events. In every event the athletes can earn money as well as medals of honor.

Athletes train with several equipment and a few a listed below such as Treadmill , bicycle, weightlifting, and more.